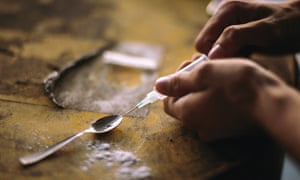 National Drug Treatment Monitoring System figures show 3,657 people asked for help to stop using the smokable form of cocaine in the year to April 2016, compared with 2,980 in the previous year. There was a 12% increase in people seeking to beat an addiction to both crack and opiates – such as heroin – in the same period, to 21,854.
Overall, opiate use remained the most common reason to seek help, with just over half of patients battling addictions to heroin, methadone and similar substances. But the sharp rise in numbers asking for help with crack addiction sparked concerns, after a much smaller rise of 3% the previous year.
Separate data, released on Thursday by the Home Office, showed a 16% rise in seizures of crack in the year to April 2017.
Overall, 279,793 people accessed drug treatment services in England in the year to April 2017, of whom 69% were male and 90% were white.
The NDTMS report, published on Thursday, agreed that the increase in the numbers seeking treatment for crack addiction probably reflected a rise in the use of the drug. "This increase in the number of new users may be in part caused by changes in the purity and affordability of crack cocaine over the last few years," the report said.
In a blogpost accompanying the release, Rosanna O'Connor, a drugs expert at Public Health England, speculated that changes in drug supply networks, including the "county lines" phenomenon, where metropolitan drug gangs are branching out to establish outposts in provincial towns, may also be playing a role.
"You can bet your bottom dollar that if the Home Office are reporting greater seizures the price is coming down, because that means for every one they seize they'll be ten that will get by," Hamilton said. "So that would definitely indicate that price is coming down of crack, and it may just be that, it may just be a price-led thing where it's cheap and it's easy to get hold of."
He added: "Health economists have this rule that price and availability drive drug use geographically, so whether you're in Brixton or Bournemouth or Bolivia, if the price is sufficiently low and the drug sufficiently available then you'll get that drug used in that area."